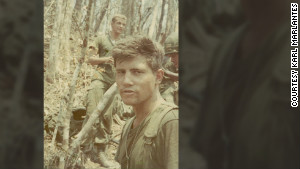 I'm reading Karl Marlantes' novel
Matterhorn
. It is one of the most painfully outstanding books I have ever read. This exchange between a regimental and battalion commander struck me. It is a question every officer should ask.
"We are engaged in a shitty war," he said. "A shitty little war that is tearing apart the thing I love. Do you love the Marine Corps, Simpson?"
"Yes sir, I do."
"I mean do you really love it? Do you go to bed with it at night, wake up with it in the morning, see its sour side, see it when it's sick and tired, not just when it's glorious? Do you think about it all the time? Or do you think about where it's going to get you?"
The exchange only gets better from here. A fantastic work.